About Us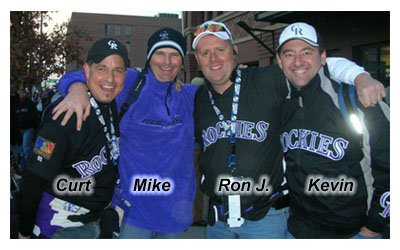 HRBombers.com has been developed by two sports fanatics: Ron Johnson & Curt Thompson with hopes of taking a growing game online and into the 21st Century.

Ron grew up in Kansas and is a Diehard Chiefs fan stuck in the in Donkey country here in Colorado.

Curt was raised in Nebraska so it's all about the Huskers for him. And thanks to Tom Landry and Roger Staubach in the 70's he's been a life long Cowboy fan as well.

Ron and Curt left the Midwest Plains and moved to Colorado in the early 90's. They met for the first time, to no surprise… in a sports bar in Colorado Springs. Old Chicago quickly became a daily hang out and both found out right away that it's a Sports World year round in Colorado.

Growing up in the Midwest created some sports voids from the NBA, NHL and real MLB. That was quickly taken care of with the move to Colorado. This Sports-crazed area has three teams we love to follow, the Nuggets, Avalanche and the Colorado Rockies.

Going to games/watching sports has become part of our DNA. The natural off-shoot of all that sports intake is pick-em pools and cash games to make it all more interesting. We both started playing fantasy football in 1990 and are still involved in that league going strong 30+ years later.

We were one of the first groups to ever do fantasy football for just the NFL Playoffs. That started for us in 1994 and it's a game, as some of you know, that rivals the regular season for entertainment.

Over a decade ago we started playing three separate games for the Super Bowl because even the biggest game of the year wasn't enough on it's own.

Then we started having March Madness "Drafts" because having multiple Brackets wasn't good enough either. Then came the College Bowl Game Pick'ems and the pools for all the Golf Majors. On and on it went.

You'd think the games themselves would be enough, but when you're true Sports Junkies it's never enough.

We hope you enjoy this years Home Run Pool and Good Luck to everyone.